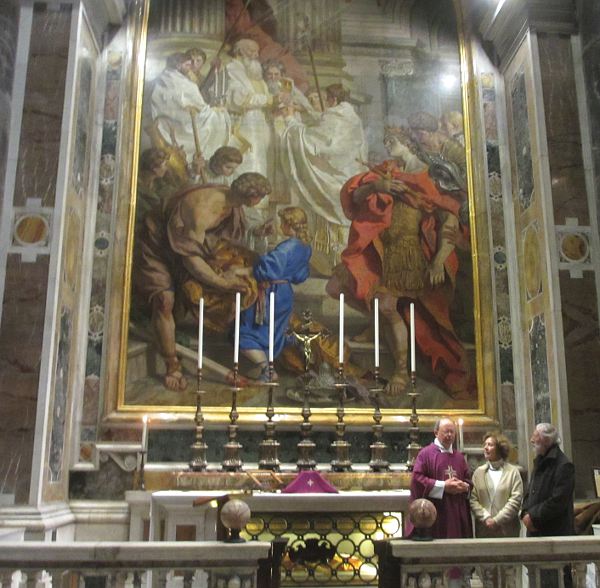 I dag feiret jeg min siste messe i Peterskirken, siden vi reiser tilbake til Oslo i morgen tidlig. Jeg ble denne gang ledet til et alter jeg aldri har benyttet tidligere; den hellige Basilius' alter. Bildet er tatt etter messen; jeg står foran alteret med noen venner som deltok – min kone tok bildet.
Om dette alteret kan vi lese:
The subject of the altarpiece is St. Basil Celebrating Mass in the presence of the Arian Emperor Valens. St. Basil is so involved in his devotion at Mass during the Feast of the Epiphany in 372 that he does not notice Emperor Valentius enter with his retinue.
Under alteret ligger den hellige Josafat – 1580-1623. Om ham kan vi lese på katolsk.no (han døde under striden mellom de ortodokse og de som ville forenes med paven i Ukraina):
… en mobb samlet seg utenfor erkebiskopens hus. Folket krevde at Elias skulle løslates og erkebiskopen straffes. Etter tidebønnen vendte Josafat uskadd tilbake til huset og lot Elias gå med en advarsel. Men folkemengden var ikke tilfreds. De brøt seg inn i huset og angrep erkebiskopens tilhengere. Josafat gikk ut til dem og talte til dem i ord som minner om den hellige Thomas Becket: «Mine barn, hva gjør dere med mine tjenere? Hvis dere har noe imot meg, så er jeg her. Man la dem være i fred.» Til folkemengdens rop: «Drep papisten!» ble han slått i hodet med en hellebard og gjennomhullet av en kule. Det lemlestede liket ble dratt ut og kastet i elva Dvina. …

… Ved saligkåringen (i 1643) ble Josafats legeme lagt i en sølvkiste gitt av prins Leo Kasimir Sapieha. I 1706 flyttet prins Karol Radzwill relikviene til sitt slott i Bila Pidlaska, men i 1712 ble relikviene overført til basilianerkirken i Bila Pidlaska. Martyrens relikvier i Polotsk kom i 1916 midt i krigssonen i Første verdenskrig, og de ble i hemmelighet flyttet til Wien. Den 12. november 1923 hedret pave Pius XI (1922-39) Josafat med en egen encyklika med tittelen «Guds Kirke» i forbindelse med 300-jubileet for martyriet. I desember ble hans relikvier utstilt for venerasjon i Stefansdomen i Wien.

Etter krigen ble Wien okkupert av de fire seiersmaktene, og i 1949 ble Josafats relikvier i hemmelighet flyttet fra den sovjetiske sonen til Peterskirken i Roma. Den 25. november 1963 installerte pave Paul VI (1963-78) Josafats relikvier i Peterskirken, under alteret for Basilios. I anledningen 400-årsjubileet for Josafats fødsel ble relikviene den 17. juli 1982 kledd i nye gevanter og en bronsemaske, donert av den kanadiske provinsen av basilianerordenen.