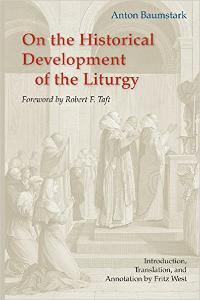 En svært velutdannet tysker, Carl Anton Joseph Maria Dominikus Baumstark, skrev en bok i 1921, som jeg nettopp har lest. Om ham kan vi lese:
Carl Anton Joseph Maria Dominikus Baumstark (4 August 1872, Konstanz – 31 May 1948, Bonn) was a German Orientalist, philologist and liturgist. His main area of study was Oriental liturgical history, its development and its influence on literature, culture and art.

He studied classical and Oriental philology, obtaining his habilitation for both subjects in 1898 at Heidelberg. In 1899, he relocated to Rome, where in 1901, he became an editor of the academic journal Oriens Christianus. Later on, he worked for 15 years as an instructor at a Roman Catholic secondary school in Sasbach, Baden.

In 1921 he became an honorary professor in Bonn, then served as a professor of Semitic studies and comparative liturgal science at Nijmegen (from 1923), followed by a professorship of Arabic and Islamic studies at the University of Utrecht (from 1926). From 1930 to 1935, he was a professor of Oriental studies at the University of Münster.
Om boka, som måtte vente 90 år en engelsk oversettelse, kan vi lese på amazon.co.uk:
In 1921, Anton Baumstark delivered two lectures on the development of the Roman Rite to a gathering at the Abbey of Maria Laach. Abbot Ildefons Herwegen offered to publish those lectures, but Baumstark decided to write a book on the topic instead, which was published two years later as On the Historical Development of the Liturgy. It would be another sixteen years before he produced Comparative Liturgy, for which he is better known. Together the two books lay out Baumstark's liturgical methodology. Comparative Liturgy presents his method; On the Historical Development of the Liturgy offers his model. For nearly a century, On the Historical Development of the Liturgy has been valued by specialists in the field of liturgical studies, both for its description of comparative liturgy and for the portrayal of patterns Baumstark discerns in liturgical development. Also significant are the hypotheses Baumstark proposes and the evidence he brings to bear on problems in liturgical history. In this annotated edition, Fritz West provides the first English translation of this work by Anton Baumstark.
Boka var interessant nok, men jeg leste bare i liten grad de mange og lange kommentarene til oversetteren, så da ble den ikke så mye mer enn halvparten av de 315 sidene den egentlig inneholder.