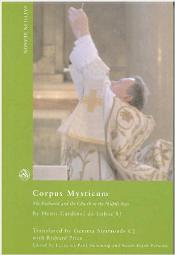 Kardinal Henri Lubac, SJ, utga denne boka (på fransk) i 1944, men så vidt jeg forstår kom det ikke noen engelsk oversettelse før i 2011. Amazon skriver om boka:
One of the major figures of 20th century Catholic theology, Henri Cardinal de Lubac SJ was particularly renowned for his attention to the doctrine of the Church and its life within the contemporary world. In this book, de Lubac opens an initial exploration of the Church as made by the Eucharist and gives new expression to that mystery in which the Church is believed to consist. …. With the publication of this English translation of «Corpus Mysticum», this important text of contemporary Catholic ecclesiology and sacramental theology is made available to the Anglophone world and joins the substantial range of de Lubac's works now accessible to scholars.
Lubac var på 50-tallet regnet som en svært radikal teolog, og Vatikanet ga ham faktisk undervisningsforbud og forhåndssensurerte alle hans bøker i nesten 10 år – men i 1958 var det slutt på hans problemer, og pave Johannes XXIII og Paul VI hadde stor tillit til ham. Innholdet i denne boka ser ut til å være en av de mest sentrale av Lubacs «oppdagelser». (Slik skriver Wikipedia)
Although the precise nature of his contribution during the council is difficult to determine, his writings were certainly an influence on the conciliar and post-conciliar periods, particularly in the area of Ecclesiology where one of his concerns was to understand the Church as the community of the whole people of God rather than just the clergy.
Muligens er dette grunnen til at jeg egentlig ikke klarte å lese denne boka, men bare skummet gjennom den; at Kirken er alle de troende og ikke bare presteskapet, er for opplagt for meg til å klare å lese 300 sider for å få det bevist.
Til sist om Lubac; han er en av de mange teologene som før konsilet ble regnet som radikal, men som etter konsilet mer og mer plasserte seg på den konservative fløyen. Wikipedia skriver også dette om ham:
In the years after Vatican II, de Lubac came to be known as a 'conservative theologian', his views completely in line with the magisterium—in contrast to his progressive reputation in the first part of his life. Contributing to this reputation, in 1972 de Lubac, alongside Joseph Ratzinger who later became Pope Benedict XVI, Hans Urs von Balthasar, Walter Kasper and Karl Lehmann, founded the journal Communio—a journal which acquired a reputation as offering a more conservative theology than Concilium.