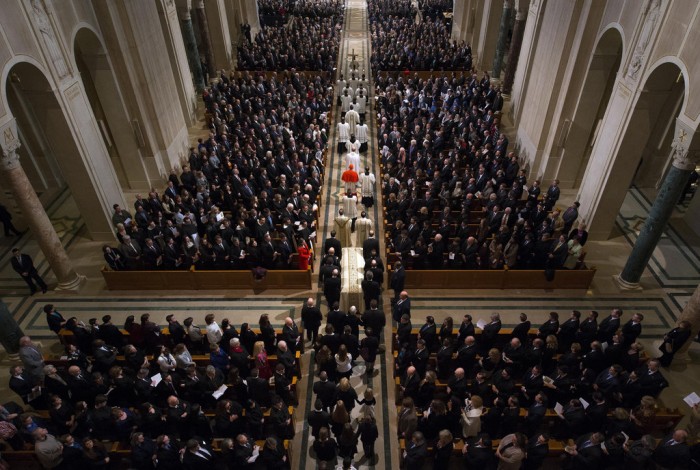 First Things gjengir her hele preken til Fr Paul Scalia, som han holdt i sin fars begravelse for noen dager siden
We are gathered here because of one man. A man known personally to many of us, known only by reputation to even more; a man loved by many, scorned by others; a man known for great controversy, and for great compassion. That man, of course, is Jesus of Nazareth.

It is He Whom we proclaim: Jesus Christ, Son of the Father, born of the Virgin Mary, crucified, buried, risen, seated at the right hand of the Father. It is because of Him, because of His life, death and resurrection that we do not mourn as those who have no hope, but in confidence we commend Antonin Scalia to the mercy of God.

Scripture says, Jesus Christ is the same yesterday, today and forever. And that sets a good course for our thoughts and our prayers here today. In effect, we look in three directions: to yesterday, in thanksgiving; to today, in petition; and into eternity with hope.

We look to Jesus Christ yesterday—that is, to the past—in thanksgiving for the blessings God bestowed upon Dad. In the past week, many have recounted what Dad did for them, but here today, we recount what God did for Dad; how He blessed him. We give thanks, first of all, for the atoning death and life-giving resurrection of Jesus Christ. Our Lord died and rose not only for all of us, but also for each of us. And at this time we look to that yesterday of His death and His resurrection, and we give thanks that He died and rose for Dad. Further, we give thanks that Jesus brought him to new life in Baptism, nourished him with the Eucharist, and healed him in the confessional. We give thanks that Jesus bestowed upon him 55 years of marriage to the woman he loved—a woman who could match him at every step, and even hold him accountable.

God blessed Dad with a deep Catholic faith—the conviction that Christ's presence and power continue in the world today through his Body, the Church. …..
The New York Times skriver også om denne begravelsen, bl.a.:
The nation's leaders, including justices, judges, lawmakers, current and former vice presidents and a presidential candidate, gathered for a mostly solemn two-hour funeral Mass. The longest-serving member of the current Supreme Court, Justice Scalia died at age 79 last weekend at a Texas ranch after nearly 30 years on the highest bench. …