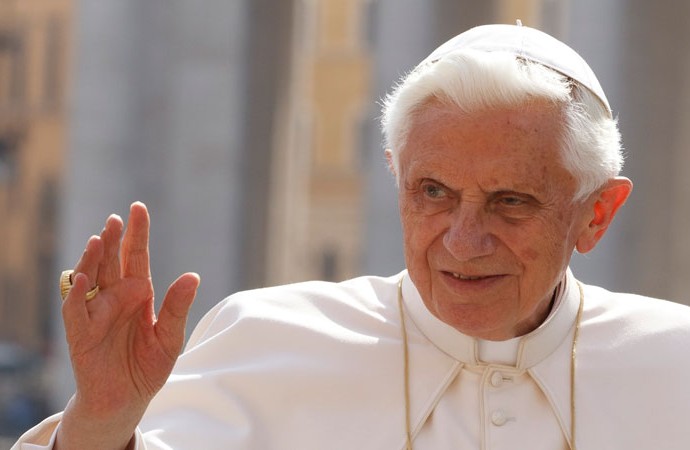 John Allen skriver om den nye boka om pave Benedikt, som gis ut i dag, bl.a.:
Pope Francis is celebrated for his humility, and rightly so. This is, after all the pontiff who began his reign by kneeling and asking the crowd in St. Peter's Square to pray for him before he delivered a formal blessing, who returned to a Rome residence to pay his own bill and pack his own bag, and who declined to live in the sumptuous papal apartments.

However, there's also a sense in which Pope Francis is a strong personality, comfortable in command, and possessing a virtually unwavering confidence in the correctness of his own judgments. That's far from arrogance, of course, but for those who watch him in action, there's never any doubt about who's in charge.

If you want a pope filled with a sense of his own limitations and imperfections – not haunted by them, but also remarkably open in acknowledging why they may have made him unsuited to lead, at least for very long – then the man you're really looking for is Benedict XVI.

We got another reminder of the point on Thursday, with the release of excerpts from a new interview book with Benedict XVI by German journalist Peter Seewald, with whom he's collaborated several times in the past. Titled Final Conversations, portions of the book were published Thursday in the Italian daily Corriere della Sera and German weekly Die Zeit and daily Bild.

While insisting that he was not pressured by anyone to resign the papacy in February 2013, and that it was his own free decision, Benedict concedes that the demands of running a complex religious multi-national occasionally exceeded what he perceived, anyway, as his capacities.

"My weak point perhaps is a lack of resolve in governing and making decisions," he said. "Here, in reality, I am more a professor, one who reflects and meditates on spiritual questions. Practical governance was not my forte, and this certainly was a weakness." ….