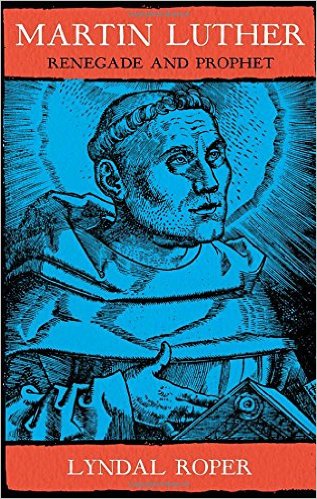 Etter tips fra en norsk kirkehistoriker bestilte jeg for noen uker siden Martin Luther: Renegade and Prophet, av Lyndal Roper og har nå lest den ferdig. Jeg har lest flere bøker om reformasjonen og Luther i vinter, og må nok innrømme at jeg vanskeligere enn noen gang før kan forstå at reformasjonen skulle kunne kalles nødvendig eller nyttig.
Roper mottok i fjor høst Gerda Henkel prisen for denne og andre bøker, og der skriver de bl.a.:
"Australian-British historian Lyndal Roper, Regius Professor of History at the University of Oxford, is one of the world's most renowned historians of Early Modern times. She has authored trailblazing studies on social, gender, and psychological history as well as the history of the body; they stand out for their theoretical acumen, masterful command of an impressive wealth of source materials, and their superb prose. In her research on the Age of the Reformation, Lyndal Roper has developed a completely new way of conceptualizing the relations between religions and the social order. Her studies on witchcraft and the persecution of witches mark the emphatic transition in the history of research from women's history to gender history. Her most recent studies on Martin Luther's biography, which are driven by a history of physicality, will no doubt strongly influence debates on the Reformation leader in Luther Year 2017. Lyndal Roper, whose work impacts well beyond thinking on the Early Modern epoch, is one of the towering figures in international historiography."
Amazon har også flere anmeldelser av boka, og i en av disse kan vi lese:
This is an outstanding book by any measure. The main Luther biographies have tended to read Luther through Lutheranism or Reformation doctrines or from a confessional stance or even through a psychological framework. What Roper's book does is engage with the person in historical, cultural context. Her treatment of Luther's complex relationships with friend and foe, and friend who became foe, was for me illuminating. The glimpse into home and family life helped ground the man. Roper's painstaking study of every single one of Luther's hand written letters (a lot of them) provided a rich insight into the man and his mind.

Roper's Luther is three dimensional, a very human late Medieval Man, not a Mannequin dressed in Reformed doctrines. Importantly she exposes and understands his antisemitism more clearly than other biographies I have read. … This is a major contribution for both historians and theologians and also a model on how to write biography – it is beautifully written.

Someone above commented that its publication was 'driven by next years 500th anniversary of Luther's 95 Theses' – however, it was a project begun 10 years ago and Roper's scholarly engagement with Luther goes back decades to her Doctoral studies, studying under the famous Luther scholar and biographer, Oberman. This was not some hastily written book, knocked out to catch the market interest at Luther's anniversary – of which many will no doubt come – but the culmination of decades of scholarship by one of the world's leading Historians.