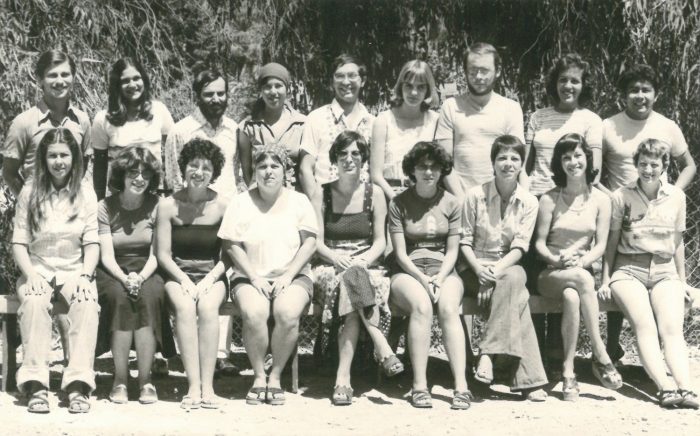 I disse dager er det akkurat 40 år siden jeg reiste til Jerusalem (med tog til Kristiansand, ferge til Hirtshals, haiketur til København og studentfly nattestid til Tel Aviv med mellomlanding i Aten, og sherut fra flyplassen til Jerusalem). Jeg hadde fått stipend fra den israelske stat (jeg søkte etter tips fra hebraisklærer Geir Sørebø) som ga studieplass og gratis opphold (måtte dekke reise og lommepenger selv) ved en av de eldste språkskolene i Israel, Ulpan Etzion, litt sør for sentrum av Jerusalem, på veien til Betlehem.
Jeg regner fortsatt denne turen og dette oppholdet som det mest «forandrende» i mitt liv; det ga meg nye perspektiver på mange ting. Senere hadde jeg et lignende opphold i Aten (vinteren 1980-81), og i 1985 giftet jeg meg i USA – og jeg ble aldri «skikkelig norsk» igjen, som før dette første, lange utenlandsoppholdet.
På bildet over kan jeg gjenkjennes som nr 3 fra høyre i bakerste rekke, jeg står ved siden av en dansk jente (som skulle gifte seg med en israeler), og det var også en fransk, to amerikanske, en brasiliansk jente i klassen, men de fleste studentene kom fra Argentina. Den mest eksotiske var kanskje en katolsk prestestudent fra Malta; nr 3 fra venstre bak. Vår lærer, Edna, sitter i midten foran.
Jeg leser nå at skolen flyttet for ca 10 år siden. Jerusalem Post skriver:
As recently reported by The Jerusalem Post, the Carmelite Church – which is connected to the Vatican – will not renew its lease in June on the aging building that has served as the absorption center's main dormitory and dining hall for more than half a century. The property, located on Rehov Gad in Baka, was recently sold to a private developer who plans to construct luxury housing on the site …

Founded in 1949 as the first language school in the newly established state, Ulpan Etzion currently is home to 102 new immigrants and 53 external students who live off-campus, says Anat Uzzan, the ulpan's director since returning from Montreal in 2005 where she served a three-year stint as an aliya emissary. The cosmopolitan, polyglot student body ranges in age from 22 to 35. All are single academics and professionals, representing the 114th class at the school, says Uzzan, who lovingly nurtures her charges as a mother hen raises her chicks. The largest contingent hails from France. But Ulpan Etzion's student body represents the ingathering of the exiles, with students coming from countries as diverse as Aruba, Turkey, Greece, Uruguay, Brazil, Mexico, South Africa and Britain. Some are the children of Israelis who settled abroad, including Soviet Jews who moved on to the West after a period in Israel. Students spend the mornings of the five-month program studying Hebrew. Four levels of Hebrew are taught, with eight classes and 11 teachers. …
Og på engelske Wikipedia kan man lese:
Ulpan Etzion, Israel's first Hebrew-language school, was established in Baka in 1949. The ulpan, directed by Mordechai Kamerat, was used as a model for Hebrew language teaching all over Israel. In 2008, the school vacated its college-style dormitories, communal rooms and gardens after the lease expired with the Carmelite Church that owned the property.
Wikipedia skriver også generelt om disse språkskolene, bl.a. at man ikke lærer nok hebraisk til å kunne klare seg. Min erfaring fra den gangen var at man måtte ha to fem-måneders intensivkurs for å virkelig kunne forstå hebraisk, og f.eks. for å begynne på hebraiske universitetsstudier.