Maleriet under (malt av F. Padilla) viser hva som skjedde 2. januar 1492, da Muhammad XII overleverte Granadas nøkler til Isabella og Ferdinand. I bakgrunnen ser man Alhambra, der vi var tidligere i dag.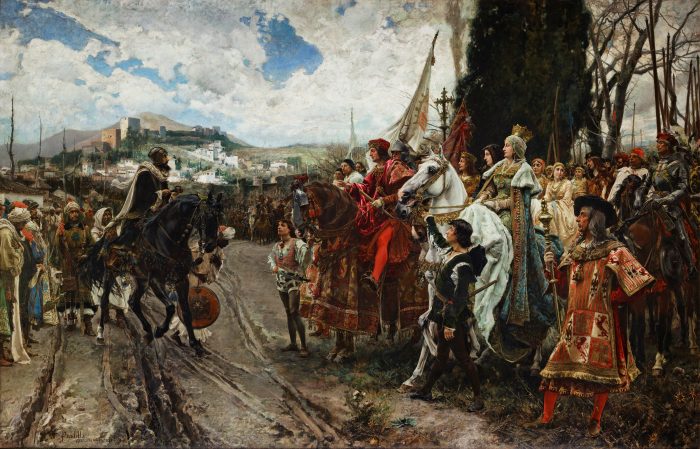 På Wikipedia kan vi lese om hvordan den siste delen av gjenerobringen av Spania foregikk:
At the end of the Reconquista, only Granada was left for Isabella and Ferdinand to conquer. The Emirate of Granada had been held by the Muslim Nasrid dynasty since the mid-13th century. Protected by natural barriers and fortified towns, it had withstood the long process of the reconquista.

On 1 February 1482, the king and queen reached Medina del Campo and this is generally considered the beginning of the war for Granada. While Isabella's and Ferdinand's involvement in the war was apparent from the start, Granada's leadership was divided and never able to present a united front. It still took ten years to conquer Granada, however, culminating in 1492.

The Spanish monarchs recruited soldiers from many European countries and improved their artillery with the latest and best cannons. Systematically, they proceeded to take the kingdom piece by piece.

In 1485 they laid siege to Ronda, which surrendered after only a fortnight due to extensive bombardment. The following year, Loja was taken, and again Muhammad XII was captured and released. One year later, with the fall of Málaga, the western part of the Muslim Nasrid kingdom had fallen into Spanish hands. The eastern province succumbed after the fall of Baza in 1489.

The siege of Granada began in the spring of 1491 and at the end of the year, Muhammad XII surrendered. On 2 January 1492 Isabella and Ferdinand entered Granada to receive the keys of the city.