Jeg har nå nettopp lest ferdig boka Keeping the Vow, skrevet av en gift katolsk prest i USA, Fr. Paul Sullins. Amazon skriver om den: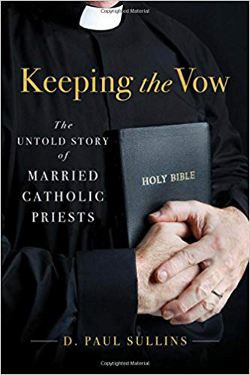 Although many Catholics, and certainly most non-Catholics, are unaware of it, the rule of celibacy for Catholic priests is not absolute. The ordination of a married man is exceptionally rare, but it does occur. In most cases it happens as an accommodation for a married priest of another Christian church, often Anglican (Episcopalian), who has converted to the Catholic faith and wishes to serve in the Catholic priesthood. The Anglican Pastoral Provision, a set of streamlined canonical policies established by Pope John Paul II in 1980, encouraged the reception of these priests. Since then over a hundred men-most married, most Episcopalian-have been ordained; today there are seventy-five married former Episcopalian priests serving in the U.S. Catholic Church.

Based on one hundred fifteen interviews augmented by biographical, survey and historical research, Keeping the Vow tells the story of these married priests and their wives, their unusual and difficult journey from Anglicanism and their life in the Catholic Church. Sullins explores the perspectives of this small group of men and their wives and how they juxtapose a unique set of identities and perspectives. A full-sample national survey provides the views of U.S. bishops on the practice of married priest ordination. The book's extensive use of quotes and personal narrative helps bring these stories to life, while sociological analysis provides a clear view of their collective features and discusses implications for related social and religious issues such as conversion, priesthood, worship, marital roles and celibacy.