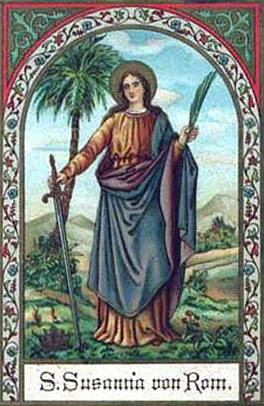 I svært lang tid har Kirken feiret den hellige Susanna og den hellige Tiburtius den 11. august. Disse to var ikke forbundet meg hverandre på annen måte enn at de var martyrer fra Roma, men de ble feiret svært grundig i over tusen år, men gradvis ble festen nedgradert, til vanlig minnedag, og bare commemoratione i 1962 – og i den nye kalenderen falt de helt ut. Men den hellige Susannas kirke i Roma er fortsatt godt kjent, og på katolsk.no kan vi lese om den:
Huset hvor Susanna døde, samt nabohuset som tilhørte hennes onkel Caius, som sto nær de to laurbærtrær, ble gjort om til en kirke, senere titularkirken Santa Susanna ad duos domos («ved de to hus») ved siden av Diokletians termer på Quirinal-høyden i Roma. Kirken het opprinnelig Titulus Gaii etter den opprinnelige eieren, og bygget er kjent siden 300-tallet og ble nevnt i underskriftene fra den romerske synoden i 499. Fra synoden i 595 opptrer kirken under navnet Santa Susanna, som den sannsynligvis fikk ved restaureringsarbeider.

Allerede i 401 ble Susanna besunget i Roma av dikteren Claudia Claudianus. Susannas minnedag i Martyrologium Romanum er 11. august, og samme dag minnes de ortodokse og armenerne henne. Hennes fest ble allmenn fra år 800. Susannas relikvier befinner seg i kirken Santa Susanna i Roma. Hun blir fremstilt med sverd og krone. …
Denne kirken er nå den amerikanske kirken i Roma, og jeg har selv vært der et par ganger.