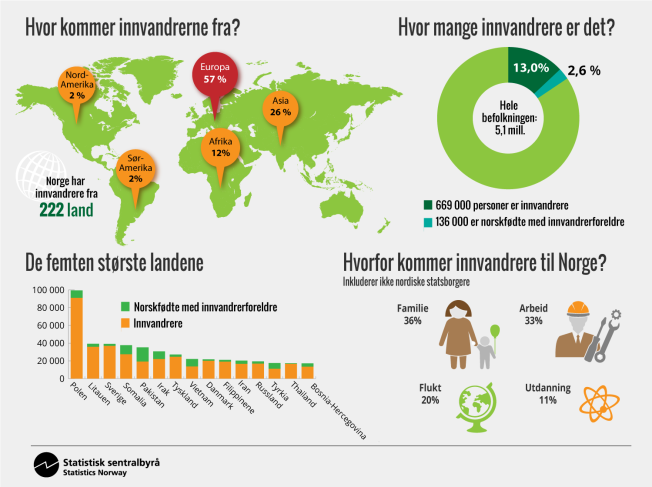 Statistisk sentralbyrå har presentert de siste tallene for innvandrere i Norge, inkl. barn født i Norge av to innvandrerforeldre. (Beskrivelsen er nesten som å lese om medlemmene i Den katolske kirke i Norge.)

Per 1. januar 2015 var det omlag 805 000 personer bosatt i Norge som enten har innvandret selv (669 000) eller som er født i Norge med to innvandrerforeldre (136 000). Til sammen utgjør disse gruppene 15,6 prosent av Norges befolkning.

I Norge bor det personer med bakgrunn fra 222 forskjellige land og selvstyrte regioner. Det er flest innvandrere fra Polen, Sverige og Litauen.

Det bor innvandrere i alle landets kommuner. Høyest andel i Oslo og Drammen, hvor innvandrere og norskfødte med innvandrerforeldre utgjør 32 og 27 prosent av befolkningen i 2015.

Innvandrere og norskfødte med innvandrerforeldre er i gjennomsnitt mye yngre enn befolkningen som helhet. Blant innvandrere er det mange unge voksne. Halvparten av alle innvandrere i Norge er mellom 20 og 40 år. Kun 9 prosent er over 60. De barna som innvandrere har fått etter at de kom til Norge er enda yngre. Over halvparten er under 10 år, 80 prosent er under 20 år og kun 1,7 prosent er over 40 år.

Det er stor variasjon i hvor lenge innvandrere har bodd i Norge. Noen grupper, blant annet de med bakgrunn fra Pakistan, Vietnam, Tyrkia og Marokko har bodd lenge i Norge, mens innvandrere fra de nye EU landene – spesielt Polen og Litauen har bodd her kort, de fleste under fem år. ….