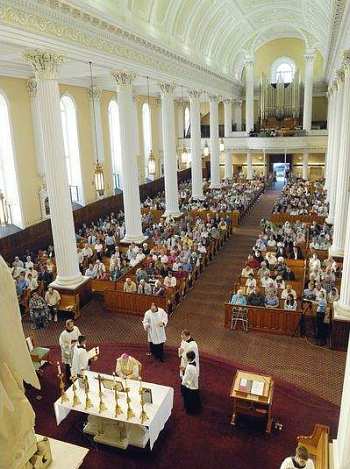 I Vermont i USA gikk en biskop foran med et godt eksempel, og feiret Høytiden for Marias opptagelse i himmelen med en stor tradisjonel latinsk messe – se bildet.
Jeg tror det skal slike litt store sammenhenger til for at katolikker flest skal oppdage den gamle messen, slik at den nye og gamle messen sammen skal innvirke positivt på hverandre, og på den måten oppfylle det jeg tror er pave Benedikts målsetting med å frigi den gamle messen. (Legg også merke til at denne kirken har et frittstående alter, og at det ikke er noe problem.)

Slik leser vi på bloggen WDTPRS:
For the first time in more than 30 years, Roman Catholics in Vermont had a chance to attend a traditional Latin Mass last week, and the overwhelmingly positive response means there likely will be more to come.
About 1,000 Catholics from across Vermont, New York, Massachusetts and New Hampshire packed the pews at Burlington's St. Joseph Co-Cathedral on Wednesday, spilling out into the vestibule for the 90-minute ceremony. …
Looking out on the overflowing congregation, bishop Matano promised to invest time in similar ceremonies. «If this is what it takes to fill our churches, then so be it,» he said. «I will do whatever I can to fill our churches.»