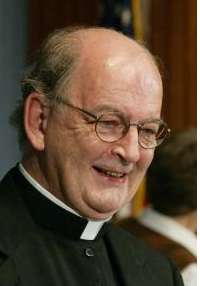 Jeg kaller ham min venn, selv om jeg aldri møtte ham. Men siden februar 1991, da jeg først hørte om ham, er han vel den personen som har har hatt størst betydning for meg teologisk og intellektuelt – og det har vel aldri gått en uke, alle de årene, uten at jeg har lest noe av det han har skrevet.
Jeg var i Portland, Oregon, noen uker i februar 1991 (under den første Golf-krigen). Jeg hadde studiepermisjon fra min tjeneste som pastor i Arendal Evangelisk Lutherske Frikirke, og ønsket å studere luthersk kirkeliv i USA. Jeg oppdaget da den høykirkelige lutherske bevegelsen i USA, og en person som akkurat hadde forlatt denne, for å bli katolikk, Richard John Neuhaus. Noen få dager seinere, i den berømte Powel Bookstore i Portland, kom jeg over et av de første nummerne av tidsskiftet FIRST THINGS, som jeg har abonnert på og lest regelmessig siden da.
Økumenisk har Neuhaus også vært viktig for meg, og på dennes sida har jeg skrevet en del om hans økumeniske initiativ «Catholics and Evangelicals Together». Han døde altså i dag (etter å ha kunngjort sin alvorlige sykdom for en måned siden), og den kjente John Allen skriver om ham:
Fr. Richard John Neuhaus, a leading voice of Catholic conservatism in America, and one of those rare theologians and spiritual leaders whose influence vastly exceeded the boundaries of their religious community, has died at 72.
Neuhaus slipped away Jan. 8, shortly before 10 o'clock Eastern time. He never recovered from the weakness that sent him to the hospital the day after Christmas, caused by a series of side effects from the cancer he was suffering.
A priest of the New York archdiocese and a former Lutheran minister, Neuhaus was best known to society at large as an intellectual guru of what came to be known as the "religious right." … …
Neuhaus converted to Catholicism on September 8, 1990, and was ordained a priest one year later by Cardinal John O'Connor of New York. In a letter to his Lutheran friends at the time, Neuhaus said he had become persuaded that the Reformation-era logic for separation from Rome was no longer justified, and that Lutheranism no longer saw itself as a reform movement within the broader church of Christ but rather as one denomination among many.
Given his Lutheran roots, Neuhaus had a lifelong interest in ecumenism. …. ….
In 2005, Time magazine took the unusual step of including the Catholic Neuhaus on a list of America's 25 most influential Evangelicals, noting that in a 2004 session with journalists from religious publications, President George W. Bush cited Neuhaus more often than any other living authority.