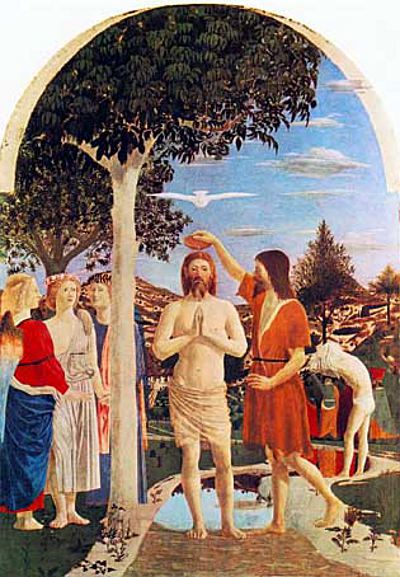 «Hodie caelesti sponso iuncta est Ecclesia, quoniam in Iordane lavit eius crimina.
Currunt cum munere Magi ad regales nuptias et ex aqua facto vino laetantur convivia.
Baptizat miles Regem, servus Dominum suum, Joannes Salvatorem.
Aqua Iordanis stupuit, columba protestatur. Paterna vox audita est:
Filius meus hic est, in quo bene complacui. Ipsum audite«.

"Today the Church is joined to the heavenly bridegroom, because he has washed her sins away in the Jordan. The Magi hasten to the royal wedding with gifts and the guests are gladdened with the water turned to wine. The soldier baptizes the King, the servant his Lord, John the Savior. The water of the Jordan is amazed, the dove bears witness. The voice of the Father is heard: This is my Son, with whom I am well pleased. Listen to him."
Sandro Magister presenterer denne teksten fra den ambrosianske liturgien i starten av et innlegg der han presenterer:
… all fifteen of the baptismal homilies delivered by Joseph Ratzinger in the six years of his pontificate, at the Easter Vigil and on the Sunday of the Baptism of Jesus.

They are "mystagogical" homilies, of initiation into the mystery of baptism. Like those of Saint Cyril of Jerusalem, of Saint Ambrose of Milan, of other Fathers of the Church.

It is an anthology collected for the first time here, of extraordinary richness. As can be perceived from the passages of each homily as they gradually unfold.
Pave Benedikts prekener er fra påskenatt 2006-2012 og fra festen for Jesu dåp 2006-2013. Her er et utdrag fra påskenatt 2012:
… Through the sacrament of baptism and the profession of faith, the Lord has built a bridge across to us, through which the new day reaches us. The Lord says to the newly-baptized: Fiat lux – let there be light. God's new day – the day of indestructible life, comes also to us. Christ takes you by the hand. From now on you are held by him and walk with him into the light, into real life. For this reason the early Church called baptism «photismos» – illumination.

Why was this? The darkness that poses a real threat to mankind, after all, is the fact that he can see and investigate tangible material things, but cannot see where the world is going or whence it comes, where our own life is going, what is good and what is evil. The darkness enshrouding God and obscuring values is the real threat to our existence and to the world in general. …