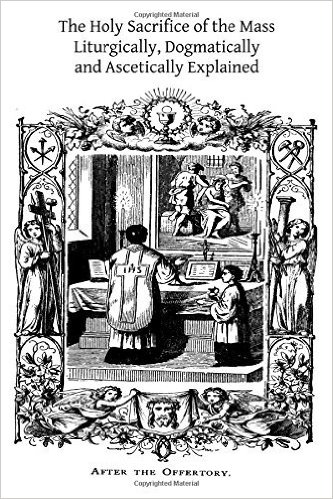 Den nest siste store oversiktboka over messens liturgi jeg har sett på er The Holy Sacrifice of the Mass: Liturgically, Dogmatically and Ascetically Explained av Fr Nicholas Gihr. Den ble utgitt i 1902, men er ny utgitt i nylig, min utgave (fotostatkopi) er fra 2013.
En anmeldelse av denne bok hos Amazon er svært positiv:
The book explains ever aspect of the Mass in minute detail. It covers topics from the virtue of religion and the meaning and efficacy of sacrifice to the two kinds of merit in the Mass, intrinsic and extrinsic–intrinsic being infinite and dependent on Christ, extrinsic being finite and dependent on man–to the use and meaning of light at the Holy Sacrifice of the Mass, and the liturgical act of the fraction of the host and the mingling of the consecrated elements. It explains in detail every prayer and gesture of the of the ancient rite of Mass!
Dessverre fant jeg ikke selv boka særlig nyttig; jeg fant ikke noen virkelig drøfting av temaet (hva betyr det at messen er et offer?) i den, mer en oppregning av (litt slagordpregede) meninger. Det er nok også et problem at boka er over 100 år gammel.
Jeg har vært opptatt av hva det betyr at messen er et offer i flere år, og har forsøkt å finne bøker som tar opptemaet – men etter flere forsøk har jeg funnet lite nyttig. Unntaket er Sacrifice and Community: Jewish Offering and Christian Eucharist, skrevet av professor Matthew Levering og utgitt i 2005. Denne boka leste jeg i desember i fjor og skrev om HER, HER og HER.