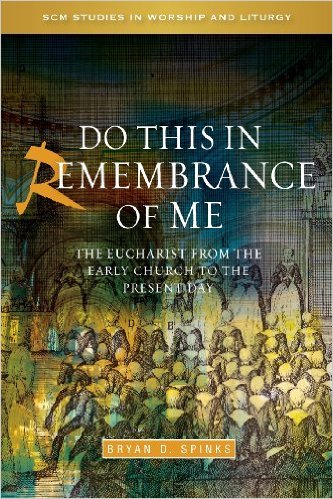 Do this in Remembrance of Me: The Eucharist from the Early Church to the Present Day av Bryan D. Spinks er den siste oversiktsboka over messens utvikling jeg har med meg, og jeg har lest den ferdig i dag. (De siste bøkene jeg har med meg på dette studieoppholdet handler mer om liturgisk utvikling de siste 100 år – og jeg kommer tilbake til dem.)
Jeg må si at jeg likte Spinks bok svært godt; den viser et helt oppdatert (den er fra 2013) bilde av liturgihistorien, og er skrevet på en saklig og ryddig måte. (Bl.a. slår den klart fast at den såkalte Apostoliske Tradisjon (Hippolytus) ikke kan brukes til å beskrive den liturgiske tradisjonen i Roma.) Den beskriver mange liturgiske tradisjoner (den egyptiske og den etiopiske kjente jeg f.eks. lite til fra før) og ser også på reformasjonens forandringer (her er jeg riktignok mye mer interessert i den lutherske enn den reformerte eller radikale reformasjonens liturgi). De mange fotnotene og den fyldige bibliografien gir også mye viktig informasjon.
Bryan Spinks's book is an outstanding new manual on the historical development of the Eucharist. It is excellent not only because it connects liturgical texts and rituals with Eucharistic theologies, but also because of its wide range, varying from the New Testament data to current practice in East and West; from the early Anaphoras to present-day Dutch Table Prayers and internet liturgies; and from the ancient Ethio-Eritrean tradition to contemporaneous Pentecostalism. Bryan Spinks displays great scholarship, investigating the primary sources in many regions, languages, and eras. This will be a 'classic', a standard work on Eucharistic liturgies and theologies for many years to come.