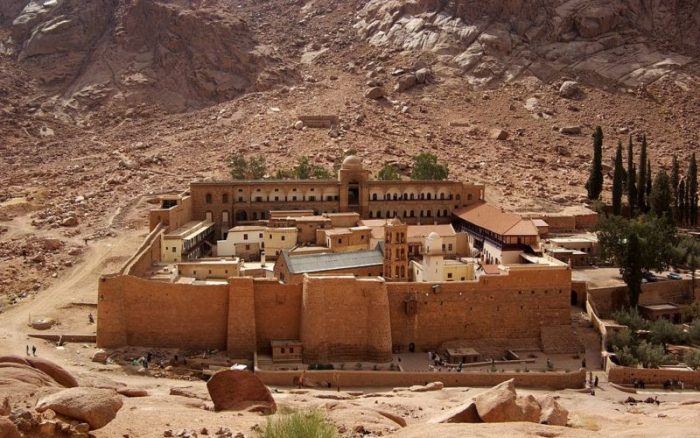 Catholic Herald skriver om en skyteepisode som skjedde rett utenfor dette berømte klosteret for to dager siden:
ISIS has claimed responsibility for an attack on an Egyptian police checkpoint near the famed Saint Catherine's Monastery in Sinai late on Tuesday which authorities said killed one policeman and wounded four.

The militants opened fire from an elevated hilltop overlooking the police checkpoint just outside the monastery, which is located in a remote desert and mountainous area in the southern part of the Sinai Peninsula, according to a statement by the Interior Ministry. …
Artikkelen skriver mer om forholdene for de kristne i Egypt, men når jeg ser bildet av klosteret, tenker jeg på mitt besøk der i oktober 1977, stedet der Codex Sinaiticus ble oppdaget tidlig på 1800-tallet (jeg var inne i biblioteket, men så også levningene til de første munkene som hadde bodd der, og Moses' brennende busk).
Manuskriptet var i mange år i Russland, men ble i 1933 solgt til the British Museum, og ble i 1973 flyttet til the British Library i London. Les mer om dette berømte håndskriftet av hele Bibelen på gresk her.