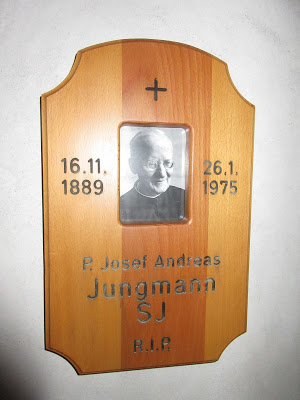 Professor Peter Kwasniewski har nylig holdt en forelesning om liturgiske spørsmål («Liturgical Obedience, the Imitation of Christ, and the Seductions of Autonomy»), som man kan lese om og høre her. Han har også vært og sett den kjente liturgen Josef Jungmanns kirke i Innsbruck, og skriver fra besøket her – bl.a.:
In the old city of Innsbruck one finds the rather impressive Jesuit church dedicated to the Most Holy Trinity, adjacent to the Theology Faculty. This is and has long been a major center for Jesuit studies. …

… We headed downstairs into the crypt where the remains of the Jesuits of Innsbruck are buried behind modest wooden signs. By far the two most famous Jesuits to be buried here are the eminent liturgical scholar Josef Jungmann (1889-1975), whose flawed perspectives on liturgical history were invoked as justification for the wholesale reconstruction of the Roman Rite in the wake of the Second Vatican Council, and Karl Rahner (1904-1984) …
Jeg er ikke ganske så negativ til Jungmann som Kwasniewski er, men det er klart at Jungmann var med og ga næring til de overdrevne liturgiske forandringene etter Vatikankonsilet.