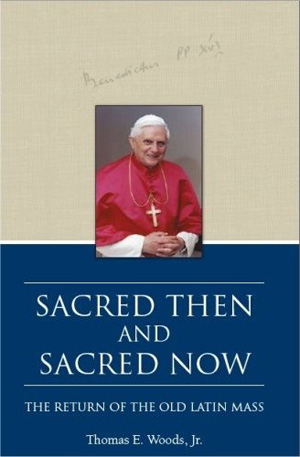 Det er i dag ti år siden pave Benedikt «frigjorde» den tradisjonelle messen (fem måneder sendere feiret jeg den første gang) og flere minnes dette i disse dager. Bl.a. siteres Thomas Woods slik:
The day the motu proprio Summorum Pontificum was released was an exceptionally unusual one for me: at last one of the seemingly lost causes I had championed for years had actually triumphed. …

… I wound up writing a small book, Sacred Then and Sacred Now: The Return of the Old Latin Mass, for the purposes of (1) explaining and defending Pope Benedict's decision; (2) walking newcomers through the Extraordinary Form; (3) replying to common objections; and (4) explaining why features common to the Ordinary Form — «Eucharistic ministers» and Communion in the hand, to name two — were not to be introduced into the Extraordinary.
Boken finnes på Amazon, og der står det bl.a. om den:
An excellent introduction to the traditional Latin Mass for Priests and lay persons who want to know more about the Extraordinary Form of the Mass which is now an official part of the liturgy of the Catholic Church….It is obvious from what Woods says and quotes that the old Mass has made a dramatic comeback in the liturgical life of the Catholic Church and is the wave of the future. –Fr. Kenneth Baker, SJ, Editor, Homiletic & Pastoral Review

Summorum Pontificum releases the curtains on four decades of liturgical farce and revives a tradition vital to the Church's recovery. In this clear book, Thomas Woods captures the momentousness of Pope Benedict XVI's simple act of courage and common sense. –George Neumayr, Editor, Catholic World Report

A compact and informative guide to the history, structure, and practice of the Old Mass (with a particularly helpful section at the end that tackles common objections). Easy to read, every CAtholic would benefit from this book. –Brian Saint-Paul, Editor, Inside Catholic.com (formerly Crisis Magazine)