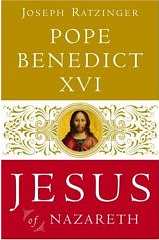 I kveld skal den engelske utgaven av pavens bok om Jesus fra Nasaret presenteres i Washington DC, men noen har allerede lest boka, bl.a. Michael Dubruiel, som skriver:
Denne boka vil føre til en fornyelse av Den katolsk kirke og hjelpe den til å forkusere på et Kristus-bilde som er både bibelsk og troverdig, etter mange år med svak forkynnelse om undervisning. Tilhører du en annen kristen kirke, vil du også elske denne boka. Jeg regner faktisk med at du vil bli en 'fan' av Joseph Ratzinger og ønske å lese mange andre bøker av en som er fundert i Bibelen og kjent med moderne angrep på denne. Hvis du er en ikke-troende, vil du finne i boka en utmerket innføring i det alle kristne tror om Jesus fra Nasaret, som var både Gud og menneske.
Han skriver også: This is a great book, magisterial (even though the pope doesn't want it thought of in that way). It is not just another book about Jesus, it a revolutionary book about Jesus…in that it recaptures why people have had their lives changed by their belief in Jesus for over 2,000 years.
What makes this book so special? It is like a modern Summa (those who know St. Thomas Aquinas will understand me here) in that it answers modern questions of doubt, skepticism and even inquiry on not only who Jesus is, but why Jesus is the most important person anyone has ever or can ever know.
The pope's methodology is to take a scene from the Bible, like the Lord's baptism and then to draw on that scene from the entire Bible, to show what modern scholarship has done to help us to understand the historical context of the scene, tell us how the early Church fathers interpreted the scene, how would it have been viewed in Judaism (he uses the reflections of a Rabbi when discussing the Sermon on the Mount) and then to give the reader the meaning of this event for them. Along the way he answers questions to the many objections modern people bring to their encounter with Jesus.