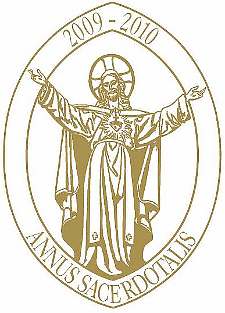 Slik åpner pave Benedikt sitt brev om året som skal fokusere på prestetetjenesten:
Dear Brother Priests,
On the forthcoming Solemnity of the Most Sacred Heart of Jesus, Friday 19 June 2009 – a day traditionally devoted to prayer for the sanctification of the clergy –, I have decided to inaugurate a "Year for Priests" in celebration of the 150th anniversary of the "dies natalis" of John Mary Vianney, the patron saint of parish priests worldwide.[1] This Year, meant to deepen the commitment of all priests to interior renewal for the sake of a more forceful and incisive witness to the Gospel in today's world, will conclude on the same Solemnity in 2010. «The priesthood is the love of the heart of Jesus", the saintly Curé of Ars would often say. …
Father Tim Finigan skriver litt om dette brevet og om talen paven holdt fredag kveld, og fokuserer en del (som kanskje flere prester gjør) på hva som skjer hvis presten er en utro tjener:
In this letter, the Holy Father thanks God for good priests, touchingly recalls the example of the priest alongside whom he ministered as a young priest, and frankly acknowledges those «situations which can never be sufficiently deplored» where priests have given scandal. After this, he points to the Curé of Ars as the point of reference for us all, quoting some of the purple passages from the writings of the saintly priest. He admits that they «might seem excessive» but that they «they reveal the high esteem in which he held the sacrament of the priesthood».
Then yesterday at second Vespers for the feast of the Sacred Heart, the Holy Father also spoke of the priesthood. Rorate Caeli has translated one significant passage:
How to forget, regarding this, that nothing makes the Church, Body of Christ, suffer so much as the sins of her shepherds, above all of those who turn into «robbers of sheep» (John 10, 1), either because they misguide them with their private doctrines, or because suffocate them within snares of sin and of death? Even for us, dear priests, the call to conversion and to recourse to Divine Mercy holds true, and we ought also to present with humility to the Heart of Jesus the request that He preserves us from the terrible risk of harming those whom we are bound to save.