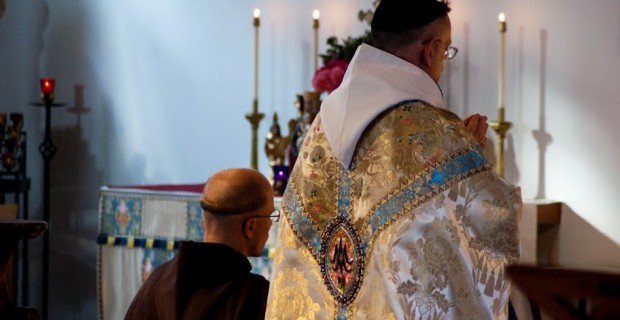 Jeg leste i dag en artikkel på Father Z's blogg om hvor aktiv (med ord) man skal være når man assisterer i den tradisjonelle messen:
In the article "The Traditional Mass is Not a Spectator Sport by Steve Skojec focuses on the liturgical participation of the congregation urged by members of The Canons Regular of the New Jerusalem … At their parish the whole congregation is encouraged to make the responses and sing those parts of the Mass – Extraordinary Form, mind you – that pertain to them. Here is the meat of the article …:

"Dom Daniel likes to remind visitors to the Priory that they do things "by the book." They are rubrically scrupulous to the 1962 Missal, even if that might cause shudders to anyone who carries around a tattered copy of Pope St. Pius V's Quo Primum in their back pocket. Among devotees of the Gregorian Rite, there's some controversy in the notion that the faithful should ever open their mouths, whether in prayer or in song, within the context of a Sunday liturgy." …
Artikkelen har allerede nesten 100 kommenterer; mange interessante, og denne aller første kommentarer syns jeg var svært interessant og nyttig:
Fr. Augustine Thompson O.P. says:
At least in Italy, lay people were singing the short responses (Amen, et cum spiritu tuo, etc.) up to the end of the middle ages. By the 1400s when "Low Mass" became common, they were also making the public responses (although not the ministerial ones like the prayers at the foot of the altar). I deal with this in my book, "Cities of God: The Religion of the Italian Communes, 1125-1325" (available on Amazon).

The best guess for the origin of the "mute" congregation seems to be in the post-Tridentine period. In the late 1500s there was a concerted push to make "lay" and "clerical" prayer completely different to emphasize the "distinctiveness" of the Catholic priesthood against the Protestants. The way Spanish laypeople were forced to stop saying their private prayers in Latin and start using Spanish is outlined in William Christian's "Religion in Sixteenth-Century Spain". The high point of this attitude was in the early 1700s when lay people were not even allowed to have copies of the Ordinary of the Mass in Latin, much less in vernacular.

This was a bad idea from the start, IMHO. Catholic priests are different from the laity, but there are better ways to get this truth across.