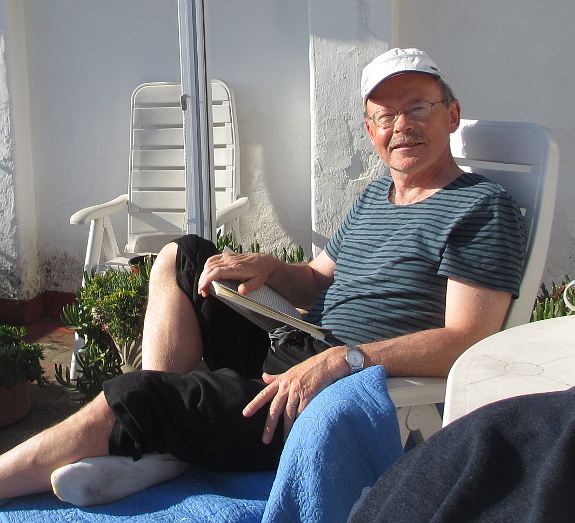 Bildet over viser meg ivrig studerende, onsdag morgen 2. desember. Det var nydelig solskinn og behagelig å sitte ute fra kl 09 – litt før 12 ble det nesten litt for varmt, så jeg pakket sammen og gikk på kontoret (på Det Norske institutt). Det har blitt kaldere i Roma også de siste ukene, ganske kjølig etter kl 16, og sola går ned rundt kl 17 – men jeg forstår at det er en del bedre enn slaps o.l. i Norge. Vi har vært heldige og hatt mye fint vær i november, og også nå i starten av desember, mens det var noe mer regn i oktober – men da var det samtidig ganske varmt.
Jeg merker at det er lavsesong i Roma nå; det merker jeg tydelig når jeg feirer messe i Peterskirken om morgenen (07.30), og det er forholdsvis glissent på kafeer o.l. rundt om i byen. De som kjenner byen godt sier at det vil ta seg opp i midten av desember og holde seg ut januar. Februar er en rolig måned igjen, og så er det visst fullt av turister igjen fra mars og ut oktober.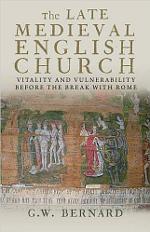 Boka jeg leser på bildet er The Late Medieval English Church: Vitality and Vulnerability Before the Break with Rome, av G. W. Bernard. Amazon skriver om boka:
The later medieval English church is invariably viewed through the lens of the Reformation that transformed it. But in this bold and provocative book historian G. W. Bernard examines it on its own terms, revealing a church with vibrant faith and great energy. Bernard looks at the structure of the church, the nature of royal control over it, the clergy and bishops, the intense devotion and deep-rooted practices of the laity, anti-clerical sentiment, and the prevalence of heresy. He argues that the Reformation was not inevitable, nor made unavoidable by the defectiveness, corruption, superstition or outdatedness of a church ripe for a fall: the late medieval church had both vitality and vulnerabilities, the one often linked to the other. The result is a thought-provoking study of a church and society in transformation.