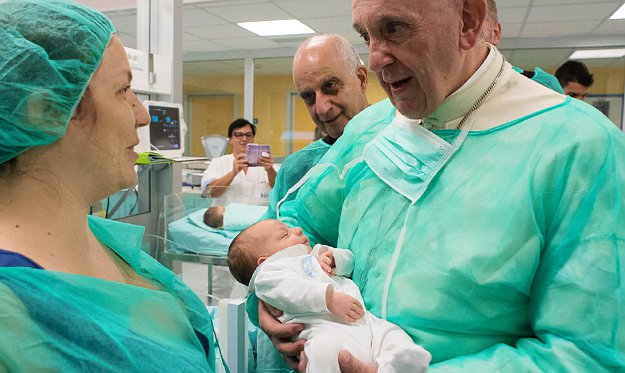 På Catholic Herald leste jeg i dag:
Pope Francis said Saturday that abortion is never the answer to difficult prenatal diagnoses, calling selective abortion of the disabled the "expression of an inhuman eugenics mentality."

"Fear and hostility towards disability often lead to the choice of abortion, configuring it as a practice of 'prevention,'" Pope Francis said May 25.

"But the Church's teaching on this point is clear: human life is sacred and inviolable and the use of prenatal diagnosis for selective purposes must be strongly discouraged because it is the expression of an inhuman eugenics mentality, which removes the possibility for families to accept, embrace and love their weakest children," he said.

The pope addressed a Vatican conference on perinatal hospice highlighting medical care and ministries that support families who have received a prenatal diagnosis indicating that their baby will likely die before or just after birth.
Pave Frans bruker ofte et svært direkte språk, både når han støtter radikale og nye synspunkter og når han oppfattes som konservativ som her, slik at folk ofte blir støtt. I denne artikkelen fra Dagbladet støtes mange over at de som utfører abort sammenlignes med leiemordere:
Er det lovlig å eliminere en menneskeliv for å løse et problem? Er det lovlig å leie en betalt morder for å løse et problem, sa den katolske kirkens overhode på en antiabort-konferanse sponset av Vatikanet.

Pave Frans mener abort aldri kan godtas, selv ikke når fosteret er alvorlig sykt eller sannsynligvis kommer til å dø. Et menneske er «aldri uforenlig med livet», sa han.

Alle barn er en gave som endrer en familiehistorie. Og dette barnet må ønskes velkommen, elskes og tas hånd om, sier paven.

Frans har tidligere uttrykt sympati med kvinner som har tatt abort og gjort det enklere for dem å få syndsforlatelse. Paven brukte lignende sammenligninger med betalingsdrap da han snakket om abort i oktober 2018. Det vakte kraftige reaksjoner fra legemiljøer.
Her er en lenke til oppslaget i 2018.